Sail Training for James Craig New Crew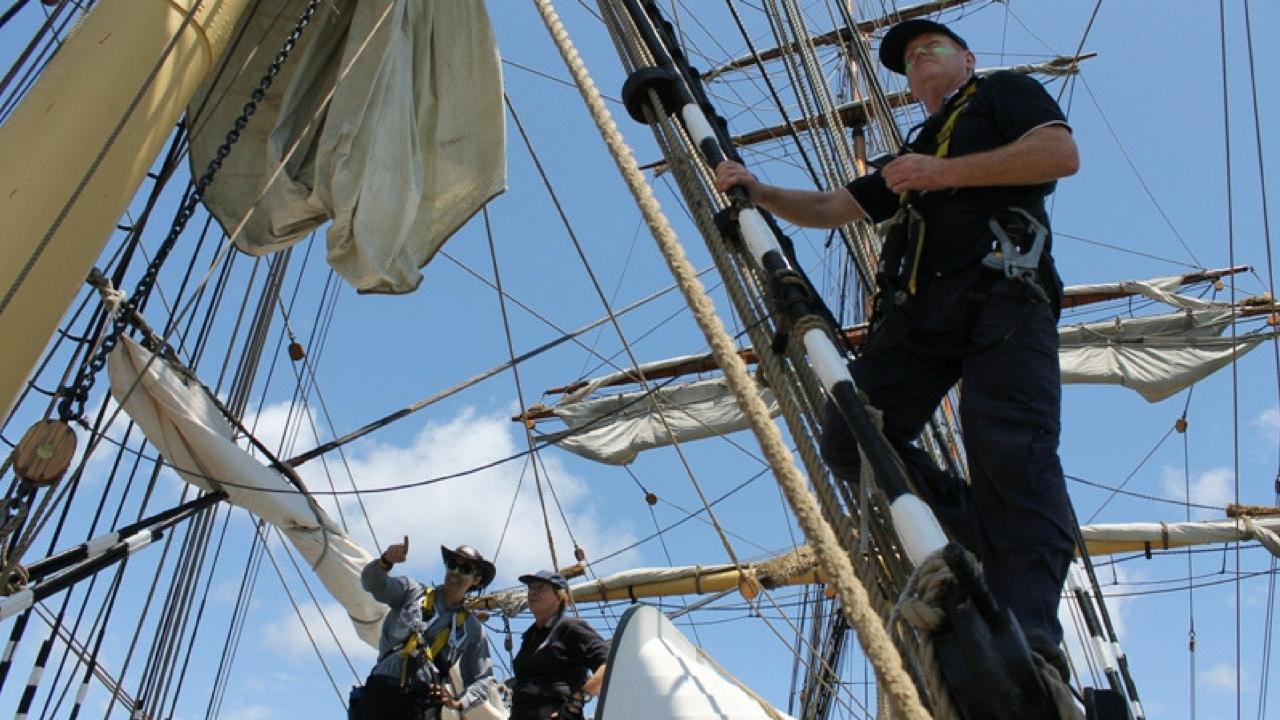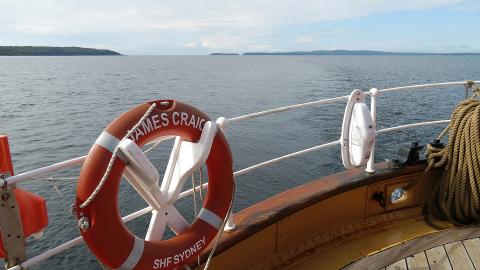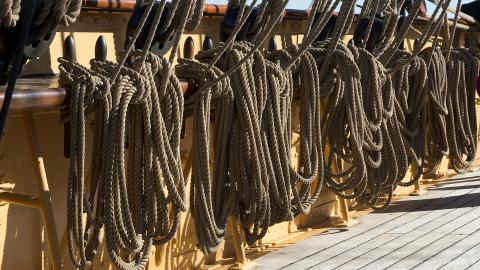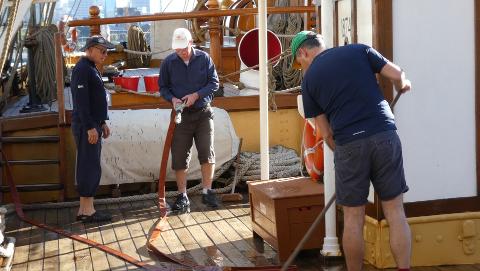 Duration: 3 Days (approx.)
Location: PYRMONT, NSW
Product code: NCI
PURPOSE
To provide people who are interested in square-rig ships and in joining the crew of James Craig with an insight into how a square-rig ship operates and to prepare them to sail as crew.
For square-rig experienced people it is an opportunity to see how James Craig operates. Your qualifications will be recognised in due course.
HOW To complete the New Crew Introduction course
The course has four parts;

Complete and send/forward in your Sydney Heritage Fleet Membership, Crew Application and other associated forms (refer below).
On our receipt of the paperwork, we will forward information to enable you to complete online units at home, then;
You complete 2 practical training sessions by attending the ship at Wharf 7 Pyrmont:

Friday evening followed by Saturday aboard James Craig (18:00 Friday / 08:00-16:00 Saturday)
Overnight accommodation onboard is available but not compulsory (8 people)

A mentored day at sea. You will participate in a training program during a day sail on one of the next two day sails (4 people each day).
On successful completion, you will graduate and join the crew as a Deck Trainee.
WHEN
Each course will be conducted at mutually convenient dates discussed when you lodge a request to join the training.
The next course are:
Part 1. At home, on line, whenever convenient
Part 2. Friday evening starting at 1800, date to be advised
Part 3. Saturday 0900-1500 date to be advised
Part 4. Mentored day sail on dates to be advised during course
REQUIREMENTS
Attend a Fleet Discovery Day. This will give you an overall appreciation of the activities conducted by the Sydney Heritage Fleet. Book your spot here.
Complete the James Craig medical here – carried out by your GP. Current Australian Maritime Safety Authority (AMSA) or Australian Defence Force medical is accepted.
To participate in climbing a reasonable level of fitness is necessary.
Purchase the training 'kit' on this booking page: cost is $110.00 over 25 years of age, $55.00 if you are 25 years or less. The kit includes: Online access to training material and James Craig Crew Handbook, Diary of Service and Task Books, A Day At Sea and other incidentals during the course.
Participate in ship maintenance, an ideal way to get to know the ship and fellow crew mates.
Complete a New Crew introduction course.
During the course, wear comfortable clothing and closed footwear, as physical activity is involved.
Have or obtain a First Aid Certificate – refer later for details.
Obtain a Working with Children clearance – refer later for details.
Course personnel staying on board overnight will be self-catering.
Applicants over 18 are required to obtain a Working with Children clearance. This can be obtained, at no cost, online
INTRODUCTION COURSE CONTENT
Course is in three parts
Complete online units at home prior to attending the practical days.
Attend the practical sessions. Friday evening followed by further sessions on Saturday. You can stay on board James Craig overnight.
On completion of the above item, take part in a mentored day sail at sea as a crew member. On satisfactorily completing the above three parts you will join the crew as a Deck Hand.

Additionally
Crew are required to take part in the maintenance of the ship or other ship activity e.g. Guiding, Sleepover assistant etc. This participation will not only assist maintain the ship but will assist you gain a more detailed knowledge of the ship and your fellow crew members.
DECK HANDS

After completing the introduction training you will join the ship as a Deck Hands.
As a Deck Hand, you will able to participate in day sails, harbour charters and voyages to gain experience and enjoy yourself. Deck Hands must obtain the General Purpose Hand qualification before being classified. Further training and experience will lead to classification as Able Deck Hand, Leading Deck Hand and Watch Leader. Introduction training only prepares you for sailing; it does not turn you into a sailor. All crew are expected to continually push themselves to learn as much as possible about shipboard operations and general seamanship. After the introduction training has been satisfactorily completed you can 'bid' (i.e. put your name down) to sail as crew on our regular day sails, harbour sails, voyages etc.
GPH CERTIFICATE

The General Purpose Hand (GPH) certificate can be obtained through certain TAFE colleges or the TAFE Digital distance learning program. It is a basic NSW Maritime requirement for people wishing to work on commercial vessels such as James
Craig.
To enhance your nautical knowledge a Power Boat licence from department of Roads and Maritime Services would be a benefit. Other current maritime qualifications you may hold are taken into account.
SENIOR FIRST AID
Crew members are required to have or obtain a Senior First Aid certificate when they join the ship or soon after. Contact the SHF office on 02 9298 3888 during business hours if you need to complete a course.
WORKING WITH CHILDREN
James Craig often has children aboard from time to time therefore adult members of the James Craig crew are required to obtain a Working with Children clearance. This can be obtained online at no cost: www.kidsguardian.nsw.gov.au
MARITIME QUALIFICATIONS
If you already hold valid Maritime Qualifications (Masters Tickets, Coxwain, MED qualifications) these are taken into account. Attendance at the Introduction Course will be beneficial in showing you how the James Craig operates.
TRANSPORT AND HOW TO GET THERE

Walk from Town Hall station across the historic Pyrmont Bridge (15 min).
Darling Harbour ferry from Wharf 5 at Circular Quay and alight at Pyrmont Bay.
Light Rail from Central station and alight at Pyrmont Bay.
Bus No 389 which runs from Bondi Junction to Pyrmont and goes through the city via Park St. (https://transportnsw.info/routes/details#/sydney-buses-network/389/31389)
Parking at Harbourside Car Park, Murray Street.
When booked on one of our sails you are eligible for discounted parking. To claim your discount, please go to the Main Reception of the Wharf 7 Building during open hours and ask for your ticket to be validated.
CONTACTS
Please direct enquiries to the Volunteer Services on 02 9298 3888 or via email vservices@shf.org.au and SHF James Craig Training by email to training@shf.org.au.
If you decide to join our crew please complete the forms in Requirements and deliver or forward them to the Training Officer, Sydney Heritage Fleet, Wharf 7, 58 Pirrama Road, Pyrmont NSW 2009. On receipt of your forms you will be booked into your nominated course.
Your training kit components, Record of Service and Task Books, can be collected from our office at Wharf 7 (please organise collection with the SHF James Craig Training Coordinator beforehand) or posted to you. This will give you an opportunity to look at some of the information before attending the course.